The Rusca House is a California Bungalow style home which was built in 1920 by Joseph "J.D." Rusca and Pearl Kyle Rusca. J.D. and Pearl Rusca were life long residents of Natchitoches. J.D. Rusca was

of the second generation of Rusca's to reside in Natchitoches. His father, Giovanni Rusca, was born in Torricelli, Switzerland in 1841. He immigrated to the United States from Genoa, Italy and worked in the oil fields of Pennsylvania until the onset of the Civil War.
When the Civil War ended in 1865, he traveled to Natchitoches and sought out Maria Theresa Delmonico, along with her mother and brother, Martin. Maria Theresa's father and three cousins were fresco
painters who had been contracted by the Catholic church in Switzerland to paint the cathedral in Natchitoches, which is known today as The Church of the Immaculate Conception. Maria Theresa's father and three cousins perished in a yellow fever epidemic in Natchitoches and were buried in the Catholic Cemetery. Not long after arriving in Natchitoches, Giovanni Rusca and Maria Theresa Delmonic were married in 1865, when Giovanni was twenty-one and Maria Theresa was fourteen. The Rusca's had nine children and J.D. Rusca was the third oldest child.
J.D. Rusca was born and reared in Natchitoches. He graduated from Louisiana State Normal, which is now known as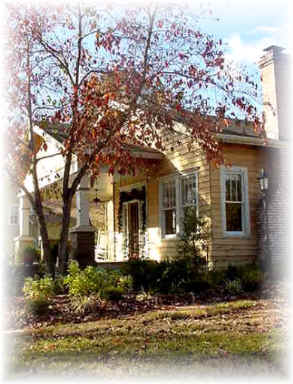 Northwestern State University. He studied law under Judge Thomas Chaplain and after passing the bar examination, he practiced law in Natchitoches for fifty-six years. He was the attorney for the City of Natchitoches for several years and served as state deputy for the Knights of Columbus, Council #1357. He was also director of the Old Merchants and Farmers Bank. He and Pearl Rusca were the parents of four children, Margaret Cecilia Rusca Trahan, Eleanor Mae Rusca Young, Mary Elizabeth Rusca Rush and Robert Joseph Rusca.
J.D. and Pearl Rusca purchased the property where the Rusca House stands on September 24, 1920 from Ms. Noellie Estelle Cox. The Rusca House was constructed soon thereafter and near the location of J.D. Rusca's family home. The Rusca's raised their four children in the home and resided in the home until J.D. Rusca's death on December 11, 1968. J.D. Rusca was buried in Memory Lawn Cemetery in Natchitoches. Upon Mr. Rusca's death, Pearl Rusca moved to New Orleans to be closer to her daughters. She remained in New Orleans until her death on September 19, 1974. She is buried next to her husband in Memory Lawn Cemetery.
The Rusca House was purchased by Mr. and Mrs. Sylvian LeVasseur , Sr. in the 1970s. The house was purchased from the LeVasseur family by its present owners, Payne and Bridget Williams, in 1999. The house has been totally refurbished to its original beauty.
---